25 Ideas to Re-Invent Your Living Space – For Free!
Here at Blockposters, we love the idea of frugal home decoration. That's why we offer a free poster printing service for any picture you choose!
But we also love celebrating other money-saving design ideas, and this blog post runs through some of our favourites.
From repurposing outdated technology to creating unique artwork from everyday objects, there's something for everyone.
1. Pipe shelving
Storage space made from scrap materials
via Domdomov.ru
You'll need: Pipes and wood (optional)
You don't have to be a plumber for this industrial chic installation to become a talking point in your home. This technique looks especially great against exposed brickwork.
2. T-shirt cushion
A cushion recovered with a retro t-shirt.
You'll need: T-shirt and a cushion. A sewing machine would help.
This idea is perfect for anyone with a closet full of old shirts that they never wear but can't deal with ditching. It breathes new life into old clothes, whilst creating a cool, comfy cushion at the same time.
3. Lego charging dock
A practical, colourful and quirky dock that charges your gadgets.
Via Trendhunter
You'll need: Lego bricks
Load of homes, both child-filled and child-free, have Lego kicking around. An added bonus is that a Lego figure's hand is the perfect size for securely holding most phone charger cables.
4. Smartphone projector
 A device that projects a smartphone screen onto a wall
Via Photojojo
You'll need: Shoebox, magnifying glass, glue, coat-hanger, scissors/craft knife
This quick and easy contraption is idea for anyone who wants to watch a big screen without forking out. The picture isn't perfect, but the household objects needed cost far less than a cinema ticket.
5. Tablet photo-frame
A device that displays a slideshow of photos
Via Bleuvous
You'll need: An old tablet or smartphone and a box photo frame.
If you love looking at pictures but can't decide which ones to frame, this is a perfect alternative that puts an older device to good use.
6. Guitar sound system
Stereo speakers built into a guitar
Via Makezine
You'll need: An old or broken guitar and speakers
It's a commonly known fact that guitars are the coolest thing ever. This system is easy to put together and will become an immediate talking point in the home of anyone who loves music.
7. Computer monitor cat bed
A computer cubbyhole for pets
You'll need: An old monitor/computer and cushions
 This is perfect for people who love retro tech nearly as much as they do their pets. Colourful iMacs from the 90s work particularly well for this project.
8. VHS coffee table
A coffee table made from VHS tapes… obviously.
You'll need: lots of VHS tapes, glue, and a wooden top (optional)
Via Materialicious
For anyone who misses the joys of rewinding and tracking adjustment. It's perfect for kicking your feet up on whilst reminiscing about the good old days and watching Netflix.
9. Vinyl bookends
Vintage records bent into unique bookends.
Via Bobvila
You'll need: Two vinyl records and some hot water.
Music and book-lovers alike will dig these bookends. If you don't have any vinyl lying around or don't want to bend your collection, records are often given online or at boot-sales.
10. Projector mural
Use a smartphone projector to create some unique artwork.
You'll need: Paint, brushes, a pencil and a DIY projector.
You don't have to have major skills to create an impressive work of art on your wall. Provided you can trace lines and colour in, a one-off piece of artwork can be created in a surprisingly short time.
11. Coat-hanger chair
A chair made from spare or free hangers and an old frame.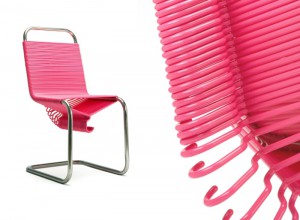 Via Inspiration Green.
You'll need: Metal chair frame, coat-hangers, glue and paint (optional).
This chair would work perfectly in the home of anyone with a passion for fashion, either in the living room or paired alongside an existing dressing table.
12. Coat-hanger art
Hanging magazines as art using coat-hangers
Via Recycle-eh
You'll need: Coat-hangers, magazines and nails.
This idea works in any home and is particularly effective with fashion, film and music magazines. It can be adapted to work in any room in the home.
13. Magazine stool
A stool made from old magazines.
Via Econesting
You'll need: Pile of magazines, cushion, two belts/straps and scrap wood (optional).
This is perfect for anyone who hoards magazines, reads them once and yet can't bear to part with them. It turns a space-stealer into a fun feature that works in any home.
14. T-shirt wall canvas
Wall art made from old shirts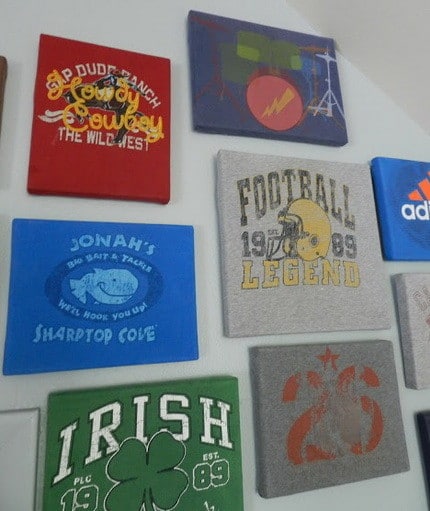 You'll need: T-shirt, canvas/wood/cardboard and a staple gun.
Like the t-shirt cushions, this is ideal for anyone who attaches memories to their clothing. It works well for any garment with a bold design and especially well with band and sport shirts.
15. Colour swatch wall art
Unique, colourful wall art made with free swatches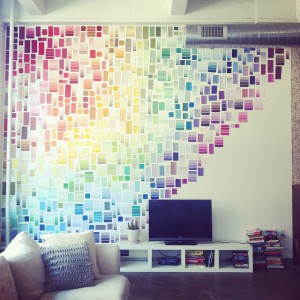 Via Fun Stuff Cafe.
You'll need: lots of colour swatches and some Blu-Tack/tape.
This is a great idea for anyone who likes a bit of colour in their lives. The possibilities are endless with free colour swatches and the most artistic may even be able to create pictures with them.
16. Newspaper wastepaper basket
A paper bin made from weaved newspapers
You'll need: Newspapers, sticky tape and a stapler.
This eco-friendly design is quick, easy and fun to make and actually looks pretty nifty too. Not to worry if someone accidentally puts something wet in it, it only takes five minutes to make a new one.
17. Cassette tape wall art
A home-made piece of cassette tape art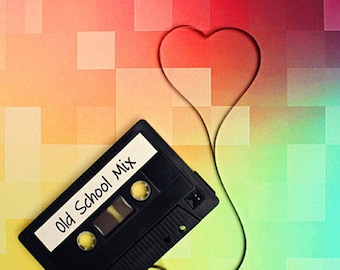 You'll need: A cassette tape, glue, nails and a frame (optional)
If you spent the Sundays of your youth recording the charts off the radio, this one's for you. From a simple heart to a portrait of your pop idol, your imagination and artist skills are the only limits to what you might create.
18. Board game clock
A clock made from the pieces of a board game
You'll need: Board game, clock mechanism, glue and wallpaper paste
For anyone whose board game collection sits gathering dust. Boards and accessories can be combined with a regular clock mechanism to make a funky, fully-functioning timepiece.
19. Washing machine drum bed-stand
A bed-stand made from a washing machine drum.
Via Canal Blog.
You'll need: A washing machine drum, wooden top and casters (optional).
This industrial-style piece of furniture could be adapted for use in any room and would suit anyone who likes something a bit different from bog-standard wooden furniture.
20. Colander lampshade 
A lampshade made from a colander or strainer
Via Dishy Lamps.
You'll need: colander, paint (optional).
This colander fitting isn't only for the kitchen, but for any room in the home. It can be left metallic or painted to fit in with a colour scheme and leaves fascinating patterns on the ceiling.
21. Newspaper map
A wall map made from newspaper
Via Barbero Architetti.
You'll need: newspapers, scissors and wallpaper paste
This is great for anyone with a passion for travelling. Top scissor skills will prove helpful in creating the desired effect, and using a smartphone projector might come in handy too.
22. Bathtub seat
A seat made out of a bathtub.
Via Twister Sifter.
You'll need: A bathtub, chair or table-legs, cushions, and paint
For people lucky enough to have a bathroom big enough to have a seating area, this is the dream piece of furniture. For everyone else, it also works well in a lounge or bedroom.
23. Jam jar photo frames
Photo frame made from a jar
Via Design Sponge.
You'll need: Clean, empty jars, photos and scissors
This is a quick, easy and cheap way of displaying your favourite snaps. It's a great idea for anyone who rents their home and can't put pictures up on the wall.
24. Pallet coffee table
A coffee table made from a wooden pallet.
Via Exnwhy.
You'll need: Pallet, sandpaper, paint/varnish (optional), glass top (optional), casters (optional)
This pallet table can be left bare, painted or varnished, making it a versatile piece that works in any home. The only downside is that its height could make for some painful shins.
25. Vintage camera bank
A coin bank made from a classic camera.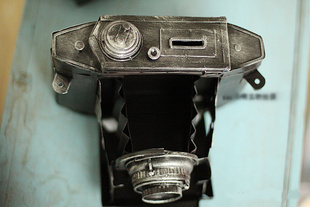 You'll need: Old-style camera, standard toolbox equipment, tape, spray paint (optional).
This piece would look perfect in the home of any budding photographer. It will also come in handy for anyone who has saved pennies by making their own furnishings.